"*" indicates required fields
If you don't have any sense of what's in your water, how can you be so sure that it's potable? Professional water testing is the best (and only) way to get a sense of what's actually going on with your water supply. Whether you get your water from a well on your property or from a municipal source, there are various contaminants and pollutants that you may not be comfortable with, including excessive mineral content, pharmaceutical run-off, pesticides, chlorine and others. While our municipal water treatment plants do a fairly good job of supply us with water, in many cases, it doesn't do everything that it needs to.
That's where we come in. We offer outstanding water testing services throughout the area, and we can easily follow that up with a water treatment system customized according to your particular issues. Our plumbers will not only ensure that your water is tested properly, but also that you fully understand the results. We always take the time to make sure that our customers are drinking clean and great-tasting water. All you have to do is give us a call today to see what we're all about.
If your water tastes strange or you're concerned about potential contaminants, then call Magnolia Plumbing, Heating & Cooling for water testing service in Washington, DC.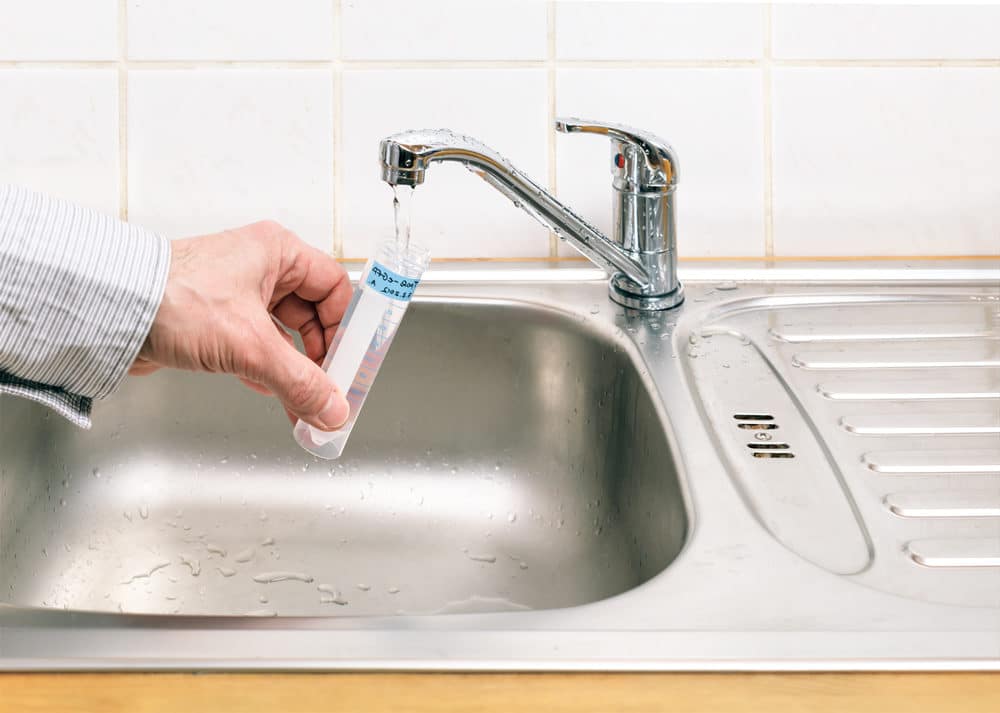 Do You Need Water Testing?
Whether you currently drink directly from the tap or use a water filtration system, it's important to know exactly what's in your water. Suffice to say, not one of us has absolutely pure water, and any water that runs through a plumbing system will have something in it. That's to be expected, and trace minerals and even miniscule amounts of contaminants are not necessarily a major cause for concern.
But all the same, it's vital that you have your water tested if you've never done so. The process is simple and easy. If you notice that your water tastes funny, then give us a call. This could indicate any number of things, ranging from generally non–harmful minerals such as calcium and magnesium that create "hard water" to other potentially harmful substances.
What to Do After Water Testing
Let's say that you've just had your water tested and it all looks fine. You may want to breathe a sigh of relief and move on. But if you're displeased with the results, then you'll want to take action. One of the best ways to improve your water supply is not by going out and buying a portable carbon filter inside a plastic jug, but by investing in a whole–house solution, such as a water softener (if you have hard water) or a reverse osmosis system to remove contaminants and pollutants.
Whole–house water treatment will ensure that you're free to drink the water at any tap and also shower without worrying about such matters. And if you have hard water, you should also be aware that such minerals can actually damage your plumbing system over time, leading to premature pipe replacement, which can be quite costly. Let us advise you about the quality of your water. We offer comprehensive water testing so call now to schedule service.
We called Magnolia to help us with an emergency situation in our home.
Mario was incredibly professional and clean while working. He was kind and made sure we fully understood what was happening each step of the way. I would absolutely use this company again for future needs and highly recommend Mario!
Magnolia was great. They were extremely professional and honest.
Came in and had the job done quickly – moved all my appliances for me, wore booties, and even put down drop cloths. I couldn't have asked for anything more. I highly recommend them to anyone looking for an exceptional plumbing company. Thank you Magnolia!
Magnolia plumbing was efficient and cost saving with replacing my water heater.
They made sure I checked the warranty of my tank so I did not unnecessarily purchase a new tank, and mine was still under warranty. I was very pleased and thankful for the fantastic work.
I needed to have several plumbing repairs handled
at my place of residence. So I contacted Magnolia Plumbing. They have always been professional and knowledgeable. Last week I have Duane Cunningham arrive and he was very polite and professional and very efficient. He explained all of what would be needed to perform the repairs and he performed each task timely and effectively. Magnolia Plumbing Heating and Cooling will always be my 1st choice.
Magnolia is full service,
including air conditioning, heating, plumbing and subcontracting for flues and chimney lining. I had a very old gas water heater and they replaced it within 2 days from doing an audit and even when I requested a switch to electric from gas at the last minute it was no problem. Pasquale is a professional and took care of every aspect, replaced leaking pipes, brought my gas boiler flue up to code and installed a high grade water heater; their pricing is very competitive.