"*" indicates required fields
Plumbing Services in Washington, DC
When your plumbing system is not running smoothly, you need a reliable plumber to assist you as quickly as possible. Magnolia Plumbing, Heating & Cooling is a trusted name in plumbing repair, installation, maintenance, and replacement in the Washington, DC area. Our service experts can help you with all of your plumbing problems, whether you want to upgrade old fixtures or add in a new water treatment system. Whenever you run into urgent plumbing issues, we'll send a professional out there fast to get your pipes and fixtures back in order. We can handle whatever plumbing tasks come our way — guaranteed!
Looking for a professional plumber? Call Magnolia Plumbing, Heating & Cooling today to schedule an appointment for plumbing services in Washington, DC and the surrounding areas.
Is Your Plumbing Issue an Emergency?
At Magnolia Plumbing, Heating & Cooling, we offer 24/7 emergency plumbing services for all of our clients in the Washington, DC area. But is your plumbing issue urgent enough to call us? If you're asking this question, the answer is most likely a yes. We can get to your home quickly and perform the plumbing repairs required to restore your system's efficiency so that you continue to have access to potable water and functional plumbing.
Call Magnolia Plumbing, Heating & Cooling for quality plumbing contractors in Washington, DC
We back our plumbing services with a 100% guarantee, so you can trust our expert technicians with any service you may need. Call our team today and find out why we've been trusted for home services for over 50 years.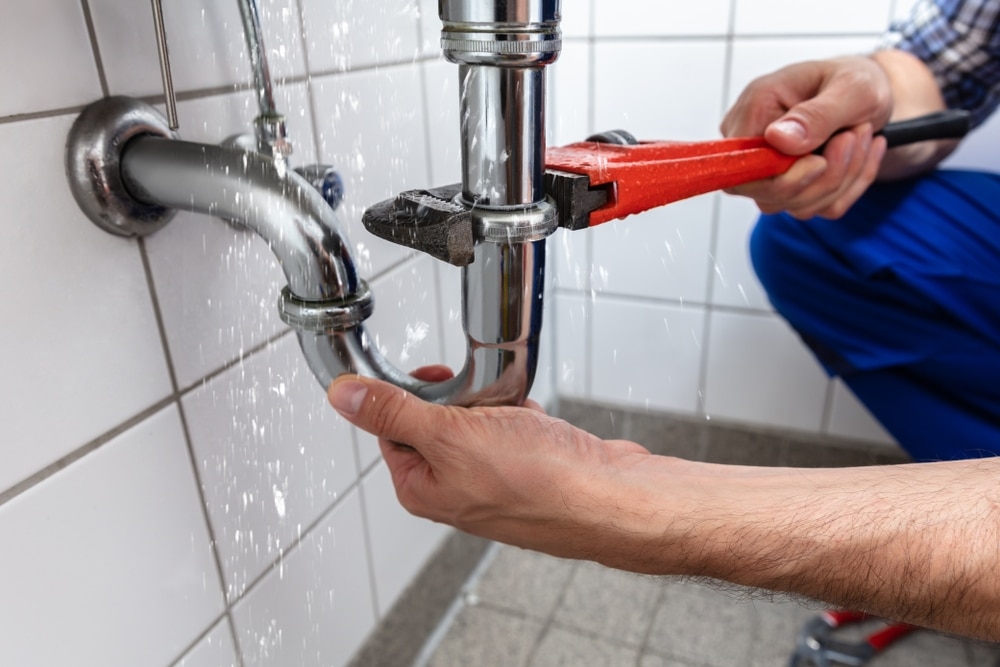 We are a Full-Service Plumbing Company
Automatic Shut–Off Valve:  You may have manual shut–off valves in various areas of your plumbing system so that you can turn off the water in case there is a major leak in the home. However, this does no good if you cannot get to the valve in time to stop a flood. We can install an automatic shut–off valve that is just that—automatic!
Sewer Backflow Preventer: Cross-contamination is a concern in plumbing systems, but your backflow prevention device helps to keep your water supply safe. Call us for backflow preventer installation, maintenance, replacement, or repair.
Bathroom Plumbing: We all know that the bathroom is one of the most important rooms in any home, so when something goes wrong, you need quick, professional services. We can fix a leaky sink, install your shower plumbing components, unclog your toilet, or handle whatever other bathroom plumbing concerns come your way.
24-Hour Emergency Plumbing: A plumbing emergency won't wait for businesses to open in the mornings. Since a leak or clog can happen at any time, we keep the phone lines open day and night, so you can contact us as soon as an issue occurs.
Garbage Disposal Plumbing: If you don't currently have a garbage disposal in your kitchen sink, you may be vulnerable to drain clogs, not to mention the inconvenience of cleaning up after a meal without the ability to dump food scraps down the drain. Call us for garbage disposal installation or service when your disposal unit does not run on demand.
Gas Lines: Our certified gas line plumbers can work on your natural gas line whenever you suspect an issue. We can also extend your gas line so that you can install new appliances and fixtures, and we will always thoroughly inspect the line for safety.
Kitchen Plumbing: We offer comprehensive kitchen plumbing services so that your time in the kitchen is always efficient. Cooking and cleaning are more enjoyable and a lot easier with a working kitchen plumbing system, so trust our team to take care of issues and install piping, fixtures, and faucets.
Piping Services: No plumbing system is complete without its most important component: piping! We install, replace, and repair plumbing pipes, and we are happy to take a look when the water pressure drops or if you suspect a leak.
Sump Pumps: Sump pumps help you to protect your home and basement from the damaging effects of flooding. We can install your new sump pump, help keep your unit maintained, replace a failing system, or provide repairs whenever possible.
Water Leak Detector: Water leaks around the home may not always be so apparent. Our experts can help you to locate the exact source of a plumbing leak and then recommend repairs or pipe replacement. Ask about our water leak detection service if you suspect a leak or if you just need some peace of mind.
Water Lines: The basic function of water lines is simply to move water from one place to another, so if this is compromised, so is your entire plumbing system. Call us for water line installation or repairs for leaks and other common piping issues.
Water Treatment Systems: Even though water is usually treated to some extent before it reaches your home, there could still be some contaminants lurking in your water supply. We will test your water and help you to find the best water treatment system for your home.
Are You in Need of a Plumber?
Sometimes, homeowners are not sure whether they should call a local plumber immediately or wait a while longer for repairs. Remember, no matter how small the problem is, it can escalate into something much worse as time goes on. We recommend contacting our team for a plumbing service immediately when you notice any performance issues with your system, including leaking or clogs, so that we can get out there ASAP. You can also schedule an appointment with us to add on important plumbing features, like a water softener or an automatic shut off valve.
Our professional technicians have yet to encounter a plumbing problem that can't fix. That's why Magnolia has been the trusted plumbing and HVAC company in the Washington, DC area for over 50 years. We've been keeping local residents satisfied and comfortable for as long as we can remember. Let us do the same for you. Contact us today to set up an appointment.