Septic Tank Services in Washington ,DC
"*" indicates required fields
Even in this day and age, there are properties that, for whatever reason, do not have access to the municipal sewer system. Since those properties obviously still need access to sewer services, the solution is to install a septic tank. 
If you happen to live or run a business on one of those properties, and you need help installing, repairing, or maintaining a septic system, give us a call. Magnolia offers a full range of septic tank services in Washington, DC, and the surrounding areas.
Not all homes have access to a municipal sewer line. In these cases, the property needs a septic tank to safely, correctly, and efficiently remove wastewater and effluent (sewage) from the home or business. While wastewater and effluent carried away by a sewer line are treated at a large sewage plant, septic tanks function as a single wastewater treatment system right on your property — they collect, treat, and disperse the wastewater from your home or business, all within the septic system.
Clearly, a system this important must be handled by experts, whether you need installation, repair, maintenance, or replacement. We are those experts, and with over 60 years of experience with septic systems and septic tanks, we are the ones to call for all of your septic tank needs in the Washington, DC, area!
How Does a Septic Tank Work?
There are three potential wastewater sources for your septic tank: 
Residential/domestic wastewater

Commercial/business wastewater

Industrial wastewater 
As the wastewater leaves your building and flows out of your property via the septic line and enters the tank, the solids and liquids will separate, becoming part of one of three layers normal to septic tank functioning: the top layer of scum, the middle layer of clarified effluent (also known as clear zone), and the bottom layer, which is sludge. About 50% of the solids in the tank will decompose, while the rest becomes sludge. This sludge will need to be removed via septic tank pumping services.
Proper septic system care means occasionally pumping your septic tank. You should pump your septic tank when 30-35% of the total contents of your septic tank are solids; this translates roughly into every three years for residential properties and less frequently for commercial properties. However, if you are looking to calculate the percent of solids in your septic tank and determine if your system needs pumping, you can do so with this formula and a piece of equipment known as a Sludge Judge:
Step 1:

 Add the amount of scum and sludge together

Step 2: 

Divide the total from Step 1 by the liquid depth of your tank

Step 3: 

Convert the result of Step 2 into a percentage by multiplying by 100
Don't hesitate to call Magnolia's local septic tank service experts for more information or for help pumping a septic tank.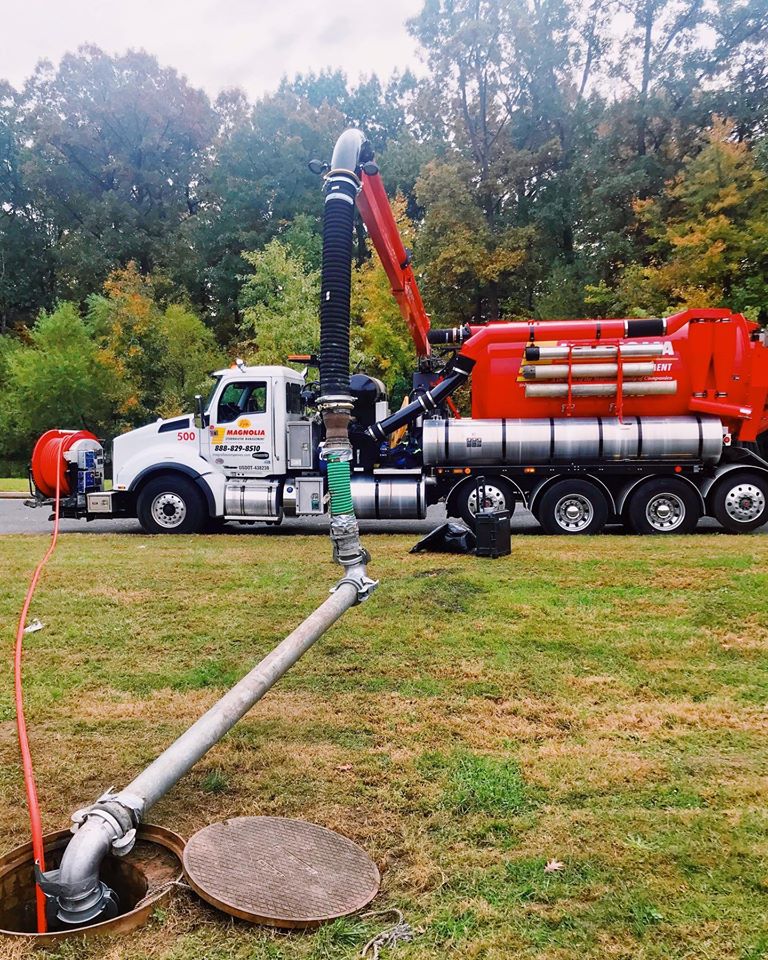 How Do I Find My Septic Tank?
Locating a septic tank takes a little ingenuity and a lot of experience out in the field, both attributes our plumbing pros have. Here is an overview of how septic tanks are located:
Our plumbing expert will trace where your septic line leaves your indoors and heads outdoors to the septic tank – this is typically between 5 to 15 feet away from your home or business

He/she will look for a depression in the grass – your septic tank is buried in your yard so that the leech field – the area where the clear effluent can seep into – can function properly. Typically there will be a dip in the grass where you can access the top of the tank.

He/she will use a probing rod. Using a probing rod, your plumbing pro will tap around the area of the depression until he/she hears a thumping sound; this will indicate where the access door is to the tank.
Once the opening has been found, our expert will dig up the door and access the tank as needed.
Installation and Treatment Services for Commercial Septic Tanks
Installing a commercial septic tank involves digging a large pit on the property outside the building, then connecting the building's sewer line to the tank. After that, the tank is buried with a small hookup left visible for the sewage pump. If you need a commercial septic tank installed on your property, give us a call.
Septic tanks are fairly simple in terms of construction, which means there aren't that many ways for them to develop problems. Even so, you will run into the occasional repair need with your septic tank if you have it for long enough. When you need your septic tank repaired, call us to set up an appointment.
Sometimes, no amount of repairs is enough to restore your septic tank to proper operating conditions. When that happens, there isn't much else to do but have it replaced. Replacing a septic tank is not an easy thing, and not something you want done by anyone but a professional company. Aside from the obvious problems that might arise from improper installation, like improper drainage and clogging, you may end up contaminating the entire surrounding area with hazardous material. For that reason, you should call us if you need a septic tank replacement. 
We offer a full range of septic tank services throughout the Washington, DC, area, including septic tank treatment and cleaning. Our experienced professionals know the ins and outs of all types of sewer systems, so if you're experiencing issues with a sewer drain, don't hesitate to call us for a thorough inspection with a sewer camera. We'll help you decide if repair or replacement is in order.
Call Us for All Your Septic Tank & Plumbing Service Needs
Septic tanks are a necessity for a wide variety of businesses in the Washington, DC, area. If you happen to own one of those businesses, know that this is one of the last things that you want to cut corners on. You want your septic tank to be well–built, properly sized, and serviced by expert technicians. So, call us with all of your septic tank needs! 
In addition to our comprehensive septic tank services, area residents and business owners can count on us to provide:
Sewer camera inspections

Sewer cleanings

Drain inspections

Bathroom plumbing services

Kitchen plumbing services

Water treatment systems

And more!
Whatever your plumbing or septic system challenge might be, call us for service, and we will take care of it, minimizing your stress level and your bill! Schedule your appointment today!
We called Magnolia to help us with an emergency situation in our home.
Mario was incredibly professional and clean while working. He was kind and made sure we fully understood what was happening each step of the way. I would absolutely use this company again for future needs and highly recommend Mario!
Magnolia was great. They were extremely professional and honest.
Came in and had the job done quickly – moved all my appliances for me, wore booties, and even put down drop cloths. I couldn't have asked for anything more. I highly recommend them to anyone looking for an exceptional plumbing company. Thank you Magnolia!
Magnolia plumbing was efficient and cost saving with replacing my water heater.
They made sure I checked the warranty of my tank so I did not unnecessarily purchase a new tank, and mine was still under warranty. I was very pleased and thankful for the fantastic work.
I needed to have several plumbing repairs handled
at my place of residence. So I contacted Magnolia Plumbing. They have always been professional and knowledgeable. Last week I have Duane Cunningham arrive and he was very polite and professional and very efficient. He explained all of what would be needed to perform the repairs and he performed each task timely and effectively. Magnolia Plumbing Heating and Cooling will always be my 1st choice.
Magnolia is full service,
including air conditioning, heating, plumbing and subcontracting for flues and chimney lining. I had a very old gas water heater and they replaced it within 2 days from doing an audit and even when I requested a switch to electric from gas at the last minute it was no problem. Pasquale is a professional and took care of every aspect, replaced leaking pipes, brought my gas boiler flue up to code and installed a high grade water heater; their pricing is very competitive.