"*" indicates required fields
Washington, DC Air Purifier Services by Magnolia Plumbing, Heating & Cooling
When it comes to cleaning your air, there are a number of products that are available. While air filters can be great for capturing allergens and dirt, you may be looking for something a little more powerful, like an electronic air purifier. As you can probably guess from the name, these air purifiers use electricity to help clean your air, and their capture technique is very different from that of an air filtration system. Is an air purifier a good choice for you? This is where the indoor air quality experts at Magnolia Plumbing, Heating & Cooling come in. We can assess your needs and determine if an electronic air purifier is a good choice for you. If it is, we'll install it and provide you with excellent service so that you can enjoy the benefits of your air purifier for years to come. Have you already been using an air purifier in your home? Then you'll want reliable help for repair or maintenance of your equipment. There's no need to suffer with poor indoor air quality when you can call our experts for help with all of your air purifier needs.
Magnolia Plumbing, Heating & Cooling provides air purifier services in Washington, DC and the surrounding areas.
Two Types of Electronic Air Purifiers
If you are considering an electronic air cleaner for your home in Washington, DC, you have a choice between two types of air purifiers: an electrostatic precipitator or an ion generator. With the first type of air cleaner, the components reside in a small cabinet. A fan draws air into the cabinet to an ionization section where all the particles are charged. These particles are then moved to an area where there are oppositely charged electronic plates where the particles are captured. It's important to clean these metal plates every three months to ensure their continued effectiveness. The second type of air purifier is the ion generator. This type of air cleaner disperses negative ions into the air where they attach to particles in your air. These newly charged, attached particles are attracted to the surfaces in your home where they cling until the surfaces are cleaned off.
Where Are Electronic Air Cleaners Installed?
Like many other indoor air quality products, ion generators and electrostatic precipitators are installed as part of your existing HVAC system. As such, it's important to use only trained IAQ experts for all work, including installation, service and maintenance. Our experts bring 50 years of experience with them to every job, so you won't have to worry about our pros when you call us for help. We'll make sure your electronic air purifier is integrated perfectly with your system so you can gain the benefits of cleaner, healthier air right away!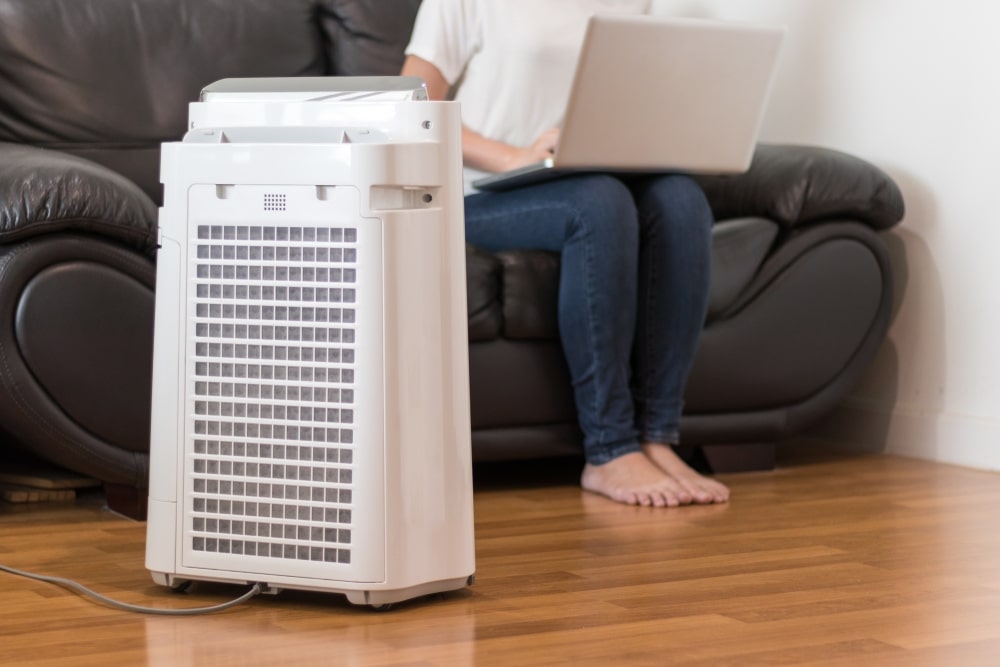 What Kinds of Contaminants Do Air Purifiers Capture?
Because air purifiers use electricity to capture particles, they are very effective at capturing a number of contaminant types for removal, including:
Adults inhale an average of 11,000 liters of air per day. Doesn't it make sense to make sure your indoor air is as clean and healthy as it can be? The experts at Magnolia Plumbing, Heating & Cooling can help you improve your indoor air quality to the level you need and want it to be – just give us a call and schedule an appointment!
We called Magnolia to help us with an emergency situation in our home.
Mario was incredibly professional and clean while working. He was kind and made sure we fully understood what was happening each step of the way. I would absolutely use this company again for future needs and highly recommend Mario!
Magnolia was great. They were extremely professional and honest.
Came in and had the job done quickly – moved all my appliances for me, wore booties, and even put down drop cloths. I couldn't have asked for anything more. I highly recommend them to anyone looking for an exceptional plumbing company. Thank you Magnolia!
Magnolia plumbing was efficient and cost saving with replacing my water heater.
They made sure I checked the warranty of my tank so I did not unnecessarily purchase a new tank, and mine was still under warranty. I was very pleased and thankful for the fantastic work.
I needed to have several plumbing repairs handled
at my place of residence. So I contacted Magnolia Plumbing. They have always been professional and knowledgeable. Last week I have Duane Cunningham arrive and he was very polite and professional and very efficient. He explained all of what would be needed to perform the repairs and he performed each task timely and effectively. Magnolia Plumbing Heating and Cooling will always be my 1st choice.
Magnolia is full service,
including air conditioning, heating, plumbing and subcontracting for flues and chimney lining. I had a very old gas water heater and they replaced it within 2 days from doing an audit and even when I requested a switch to electric from gas at the last minute it was no problem. Pasquale is a professional and took care of every aspect, replaced leaking pipes, brought my gas boiler flue up to code and installed a high grade water heater; their pricing is very competitive.