"*" indicates required fields
UV Air Purifier Services in Washington, DC by Magnolia Plumbing, Heating & Cooling
Among the many kinds of airborne contaminants that can harm the air quality in a home, viruses, mold spores, bacteria and microorganisms are among the most unpleasant and unhealthy. The very thought of mold growing inside ductwork is "icky" and certainly something you want to prevent or eliminate if at all possible. However, many of the standard air purifier systems, such as mechanical filters and electronic air cleaners, do little good against organic pollutants. It takes a special kind of solution to cleanse a house of these hazards: UV air purifiers.
Magnolia Plumbing, Heating & Cooling wants you and your family to enjoy a healthy home life, and we offer installation of UV air purifiers to help you achieve that goal. Contact our indoor air quality experts and they will find out if installing a UV purifier will help your home. We not only install these purifiers, we also service them so that they continue to do their job for many years to come.
If you are interested in installation of a UV air purifier, or wish to schedule service for one, call Magnolia Plumbing, Heating & Cooling. We offer indoor air quality solutions to Washington, DC and the surrounding areas.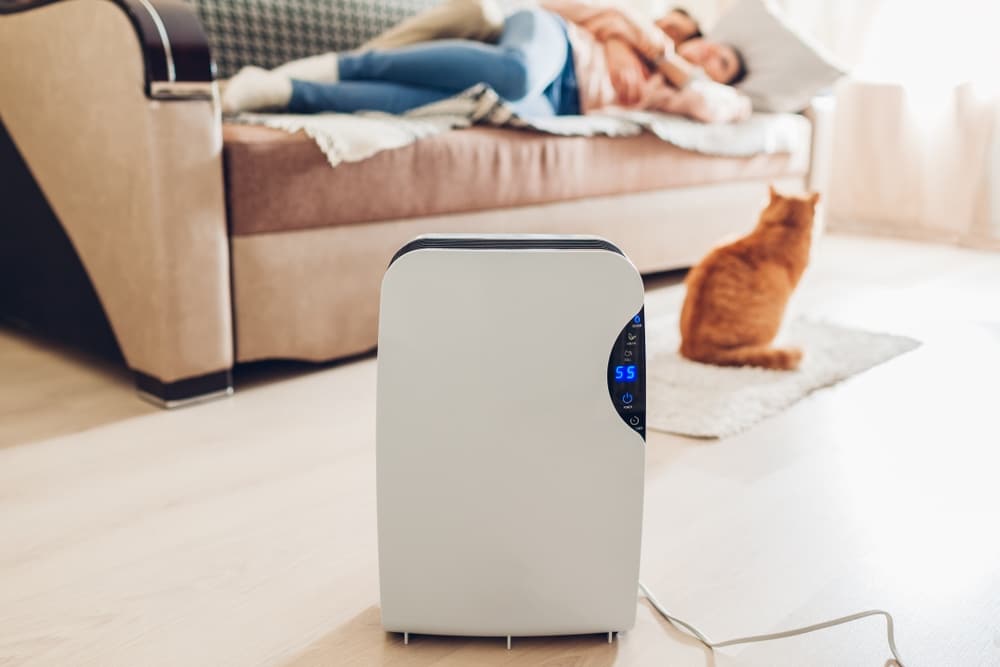 How UV Germicidal Lights Purify Household Air
UV air purifiers (a.k.a. UV germicidal lights) are actually quite basic devices: they are ultraviolet lamps that send out UV radiation to cover an area within the ducts of an HVAC system. Ultraviolet radiation is harmful for organic tissue, which is why people wear sunscreen and UV sunglasses to protect themselves in direct sunlight. The ultraviolet light from UV air purifiers, however, isn't at levels that are hazardous to humans. But with microorganisms, it's a different story.
UV radiation disrupts organic pollutants at the cellular level, stripping away their nucleus and destroying their DNA. This renders harmful bacteria, viruses and mold spores inert and prevents them from spreading. And the purifier does this without placing any harmful chemicals into the ventilation system. A properly installed UV air purifier will eliminate the most dangerous contaminants from your home's air without any side effects.
Professional UV Air Purifier Installation
Although UV germicidal lights are simple in concept, you still must have professionals handle installing them. Indoor air quality specialists will find out if you have issues in your home from organic contaminants and then match you with the right set of lights to counteract them. (Usually, UV lights are paired with standard air filters for the best general indoor air quality protection.) These professionals can also handle replacing the lights and performing regular inspections to see that they keep working accurately.
Rely on Us for UV Purifier Installation and Other Services
Magnolia Plumbing, Heating & Cooling has worked in the business of comfort and indoor air quality for more than 50 years. If you live in Washington, DC, Maryland or Northern Virginia, you should call us whenever you want to improve your home's air. We can install UV germicidal lights that will eliminate the most hazardous of organic contaminants, and you can also depend on us whenever you need repairs or maintenance for your air purifiers.
We called Magnolia to help us with an emergency situation in our home.
Mario was incredibly professional and clean while working. He was kind and made sure we fully understood what was happening each step of the way. I would absolutely use this company again for future needs and highly recommend Mario!
Magnolia was great. They were extremely professional and honest.
Came in and had the job done quickly – moved all my appliances for me, wore booties, and even put down drop cloths. I couldn't have asked for anything more. I highly recommend them to anyone looking for an exceptional plumbing company. Thank you Magnolia!
Magnolia plumbing was efficient and cost saving with replacing my water heater.
They made sure I checked the warranty of my tank so I did not unnecessarily purchase a new tank, and mine was still under warranty. I was very pleased and thankful for the fantastic work.
I needed to have several plumbing repairs handled
at my place of residence. So I contacted Magnolia Plumbing. They have always been professional and knowledgeable. Last week I have Duane Cunningham arrive and he was very polite and professional and very efficient. He explained all of what would be needed to perform the repairs and he performed each task timely and effectively. Magnolia Plumbing Heating and Cooling will always be my 1st choice.
Magnolia is full service,
including air conditioning, heating, plumbing and subcontracting for flues and chimney lining. I had a very old gas water heater and they replaced it within 2 days from doing an audit and even when I requested a switch to electric from gas at the last minute it was no problem. Pasquale is a professional and took care of every aspect, replaced leaking pipes, brought my gas boiler flue up to code and installed a high grade water heater; their pricing is very competitive.