Septic Tank Services in Washington, DC
"*" indicates required fields
If you work in a building that doesn't have access to a city sewer main, there's a very good chance that you have a septic tank somewhere on the property. At least, we certainly hope you do. If you do happen to have a septic tank serving your commercial building, you're going to want to make sure that it is pumped out frequently. Call Magnolia Plumbing, Heating & Cooling today for all of your septic tank pumping needs. We offer septic tank pumping services.
Magnolia Plumbing, Heating & Cooling provides septic tank pumping services in Washington, DC and the surrounding areas.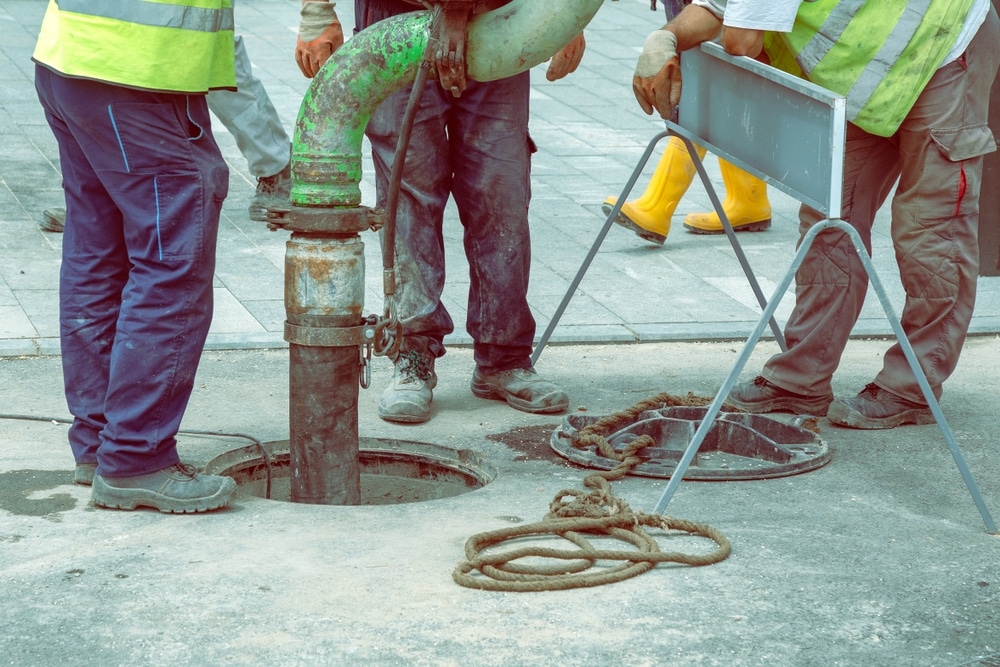 Septic tanks are closed systems, which mean they have no way to get rid of the waste that flows into them. They serve as simple holding tanks, until a truck can come by and pump out the waste for safe disposal. Septic tank pumping is actually quite simple. A waste transport truck pulls up to the hookup for the tank and attaches a hose. A pump is then activated, which pumps out all of the waste currently in the tank. Then, the truck disconnects and drives off to a waste treatment plant.
If you're asking this question, you probably aren't aware what a septic tank actually does. If you really don't want to have your septic tank pumped out every month or two, though, let us explain what can happen. First, a tank that is allowed to fill up completely will start backing up into the building; this causes sewage to contaminate pipes in the building, some of which may be designed to carry fresh water. This will necessitate that all water pipes be cleaned out for sanitary purposes after the backup is remedied.
At the same time, the pressure buildup from all the sewage can actually cause the septic tank to crack. This sewage leaks into the surrounding ground, and commonly causes it to rise to the surface. So, if you don't get your septic tank pumped out often enough, you could actually wind up with a fetid, festering swamp of sewage somewhere on your property.
On top of that, the cracked septic tank will now need to either be repaired or replaced, depending on how severe the crack is. This will typically cost a hefty amount of money to repair, which could have been avoided. The pipes leading to the septic tank could also burst, spilling sewage into other areas, including the building itself.
So, it is better for you, your building, and everyone in it to have your septic tank pumped as often as your technician says you need to. It will save time, money, and will just be better for everyone's overall health.
We Provide Comprehensive Septic Tank Pumping Services throughout Washington, DC
No matter what your septic tank pumping needs are, we can help you out. If you need septic tank pumping services, call Magnolia Plumbing, Heating & Cooling today to schedule an appointment with one of our expert technicians.
We called Magnolia to help us with an emergency situation in our home.
Mario was incredibly professional and clean while working. He was kind and made sure we fully understood what was happening each step of the way. I would absolutely use this company again for future needs and highly recommend Mario!
Magnolia was great. They were extremely professional and honest.
Came in and had the job done quickly – moved all my appliances for me, wore booties, and even put down drop cloths. I couldn't have asked for anything more. I highly recommend them to anyone looking for an exceptional plumbing company. Thank you Magnolia!
Magnolia plumbing was efficient and cost saving with replacing my water heater.
They made sure I checked the warranty of my tank so I did not unnecessarily purchase a new tank, and mine was still under warranty. I was very pleased and thankful for the fantastic work.
I needed to have several plumbing repairs handled
at my place of residence. So I contacted Magnolia Plumbing. They have always been professional and knowledgeable. Last week I have Duane Cunningham arrive and he was very polite and professional and very efficient. He explained all of what would be needed to perform the repairs and he performed each task timely and effectively. Magnolia Plumbing Heating and Cooling will always be my 1st choice.
Magnolia is full service,
including air conditioning, heating, plumbing and subcontracting for flues and chimney lining. I had a very old gas water heater and they replaced it within 2 days from doing an audit and even when I requested a switch to electric from gas at the last minute it was no problem. Pasquale is a professional and took care of every aspect, replaced leaking pipes, brought my gas boiler flue up to code and installed a high grade water heater; their pricing is very competitive.