Ductless Air Conditioning
"*" indicates required fields
Washington, DC, Ductless Air Conditioning Services by Magnolia Plumbing, Heating & Cooling
You may be asking yourself, "How effective can a ductless air conditioning system be?" and the answer is "very effective." In fact, the type of cooling provided by a ductless system is whole-home, just as it is with a traditional split system AC. The only difference is that you don't have to install or deal with any ductwork! But lack of ductwork doesn't mean you should install or service a ductless system on your own or with a neighbor. A ductless system is a large and complex cooling system, and as such, it should only be handled by a trained expert. Our AC professionals have been working with ductless systems for years, in both commercial and residential properties. We can help you size and install a new ductless system or repair and maintain your existing one. Call us today, and see what a ductless air conditioning system can do for your property in Washington, DC!
Magnolia Plumbing, Heating & Cooling provides ductless air conditioning services in Washington, DC and the surrounding areas.
What Are the Components of a Ductless AC?
It can be a little confusing to understand how a system without ductwork can provide whole home cooling. The best way to illustrate this is to review the main components of the system, of which there are three:
The outdoor unit of a ductless air conditioning system is very similar to that of a traditional split system in that it houses the compressor, condenser and condenser fan. The only difference is that there is a small area where the conduit lines from the indoor blowers connect to the outdoor unit.
Each indoor blower operates independently. Each has its own set of coils, fan and air filter, and each attaches to the outdoor unit via a conduit drilled through an exterior wall. The blowers can be mounted flush to ceilings and walls.
 The conduit consists of a refrigerant line, condensate line and power cord that are all placed in a protective plastic sleeve. A small 3″ round hole is drilled into an exterior wall and the conduit is placed inside the hole.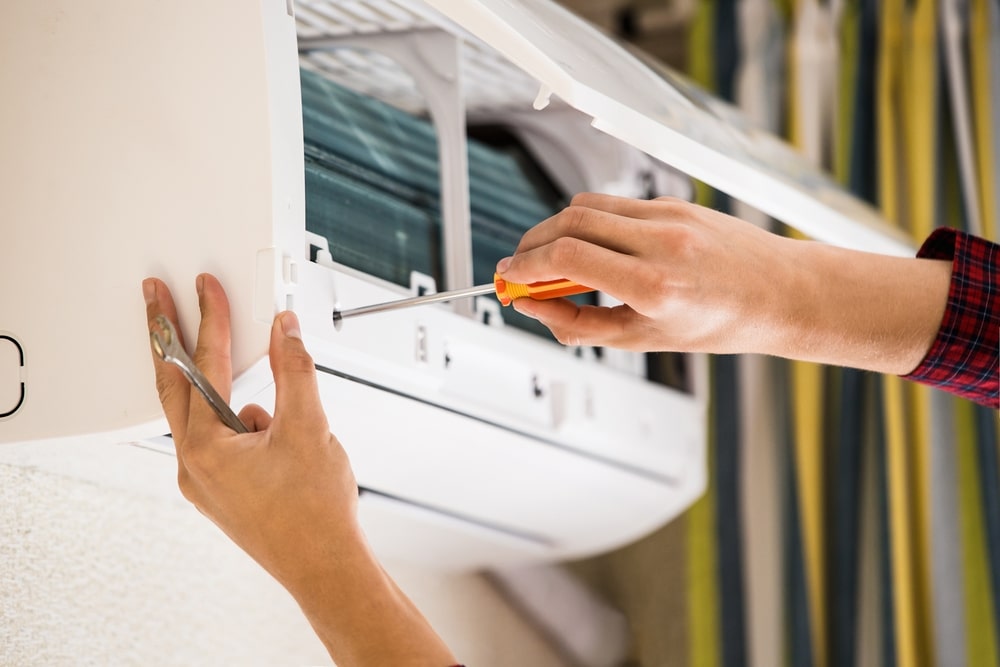 Can I Use a Ductless System Even If I Have Ductwork?
Just because a ductless system doesn't need ducts doesn't mean it can't be an option for you if your home already has ductwork. Some ductwork can't accommodate air conditioning systems because it isn't wide enough; or, you may be adding on to your home but want to avoid the expense associated with needing ductwork. There are a number of scenarios in which a ductless air conditioner can be of benefit to your home, and our experts are here to help you.
What Are the Benefits of a Ductless Air Conditioner?
So why should you consider a ductless air conditioning system? Here are some reasons:
Ductless air conditioners are energy efficient for two important reasons: first, they allow you to use only the cooling you need, which reduces the amount of energy you use to cool your home. Second, there is no ductwork through which you can suffer air loss.
Because all the components are accessible, they are easier to install and service for your AC technician.
As long as you have enough support from your outdoor unit (a single outdoor unit supports up to 4 indoor blowers), all that's needed to expand your ductless AC system is a new indoor blower and conduit.
We called Magnolia to help us with an emergency situation in our home.
Mario was incredibly professional and clean while working. He was kind and made sure we fully understood what was happening each step of the way. I would absolutely use this company again for future needs and highly recommend Mario!
Magnolia was great. They were extremely professional and honest.
Came in and had the job done quickly – moved all my appliances for me, wore booties, and even put down drop cloths. I couldn't have asked for anything more. I highly recommend them to anyone looking for an exceptional plumbing company. Thank you Magnolia!
Magnolia plumbing was efficient and cost saving with replacing my water heater.
They made sure I checked the warranty of my tank so I did not unnecessarily purchase a new tank, and mine was still under warranty. I was very pleased and thankful for the fantastic work.
I needed to have several plumbing repairs handled
at my place of residence. So I contacted Magnolia Plumbing. They have always been professional and knowledgeable. Last week I have Duane Cunningham arrive and he was very polite and professional and very efficient. He explained all of what would be needed to perform the repairs and he performed each task timely and effectively. Magnolia Plumbing Heating and Cooling will always be my 1st choice.
Magnolia is full service,
including air conditioning, heating, plumbing and subcontracting for flues and chimney lining. I had a very old gas water heater and they replaced it within 2 days from doing an audit and even when I requested a switch to electric from gas at the last minute it was no problem. Pasquale is a professional and took care of every aspect, replaced leaking pipes, brought my gas boiler flue up to code and installed a high grade water heater; their pricing is very competitive.