Ductless Heating System in Washington, DC
"*" indicates required fields
Ductless Heating System in Washington, D.C.
Going Ductless? Call on Magnolia!
Are you looking to upgrade to a new, sophisticated type of heating system? Maybe you simply don't have ample space for an elaborate network of ducts, are concerned about indoor air quality, or want to lower your utility bills while increasing your heating system's energy-efficiency. Whatever your reasons for considering alternative HVAC systems may be, ductless heating may be the perfect solution for you! 
Ductless Heating System Professionals You Can Trust
With decades of technical expertise under our belts and professional courtesy to boot, you can rest assured we're prepared to enhance your home's heating system with the following services:
New system installation
Ductless heating cleaning and maintenance
Ductless heating repair
Ductless heating replacement
Not only do we provide premier ductless heating installation and maintenance services, but we also address any issues you run into with your existing system — whether we installed it or not! Contact our personable staff today for more information about the best ductless mini-split options for you and your home.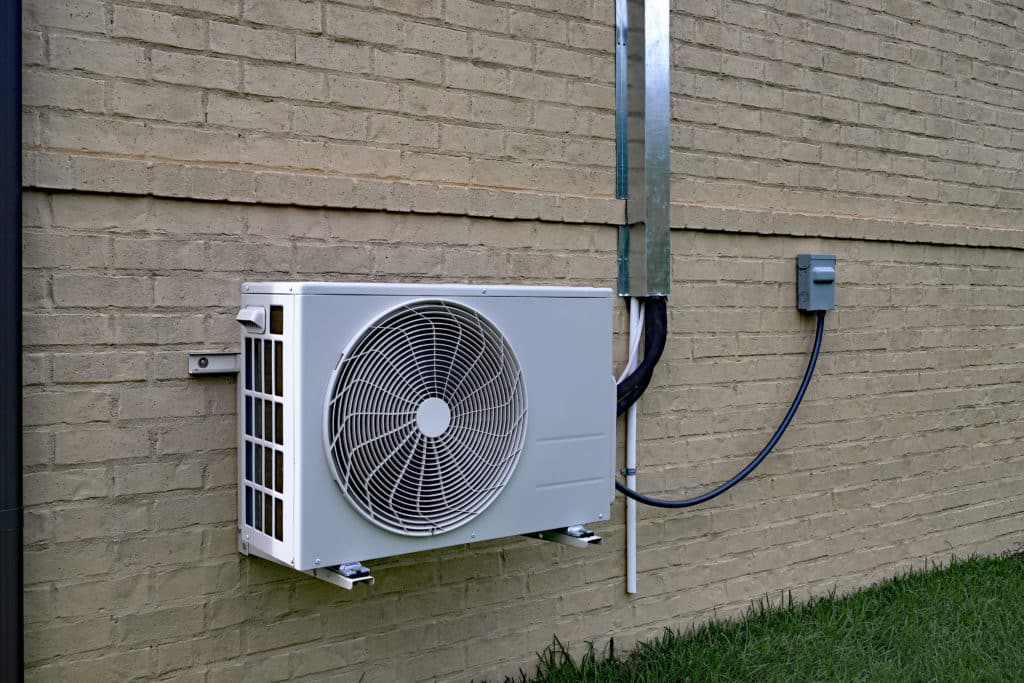 What Is Ductless Heating?
There are a myriad of residential heating systems on the market today, including both gas and electric furnaces, boilers, and heat pumps. Typically, HVAC systems utilize a network of supply and return ducts that pull air from your living space through a heat exchanger that warms the air to your temperature preferences. Unfortunately, even with sealed and insulated ducts, this can lead to airflow and temperature loss.
With these drawbacks in mind, you may consider installing a ductless heat pump, which not only provides you heat during the winter, but cool air during summer. The main difference is that instead of a centralized air handler, the system utilizes multiple ductless air blowers installed directly within your living areas. This is an excellent way to cut down on the amount of energy you use to heat your home as well as indoor air quality issues that may arise with ducts.
Ductless Heating System Installation
It's imperative to partner with a trained and experienced professional to ensure that you select the right ductless system based on your heating and cooling requirements as well as your budgetary requirements. Since each of our customers has unique needs and circumstances, our technicians make sure the entire system is integrated into your space correctly.
Ductless Heating System Repair and Maintenance
In addition to installing and replacing new ductless mini-split systems, we also make sure that your ductless heating system receives the service it needs to operate dependably. We specialize in troubleshooting an extensive range of ductless heating problems, including a lack of airflow, high energy costs, compressor breakdowns in the outdoor units, and more.
We know that even the best ductless mini-split system requires maintenance. During this routine checkup, we will thoroughly inspect, clean, and tune-up your system so that it works just as it should: effectively and efficiently. Moreover, routine care ensures that your system is reliable and less prone to costly breakdowns. 
Contact Us for Ductless Heating Services in Washington, D.C.
Whether you need ductless heating maintenance or are looking to upgrade to a brand new system in the Washington, D.C. area, our courteous professionals are ready to help! Since we care about you and your family's indoor comfort, we also offer boiler services, furnace services, and heat pump services. Call today to schedule an appointment.