Joseph J. Magnolia, Inc. was founded in 1954 by Joseph (J.J.) Magnolia and James (Jim) C. Brincefield.
However, the history of our company can be traced all the way back to 1934, when Joseph (J.J.) John Magnolia entered Abbot Vocational School at the young age of 14. Here J.J. completed a two-year course in the plumbing trade, and acquired the knowledge he would need to maintain gainful employment as a tradesmen with local plumbers and contractors. Jim, on the other hand, was born in Hampton, VA and moved to Washington in 1925 where he graduated from McKinley High School and later went on to attend the University of Maryland.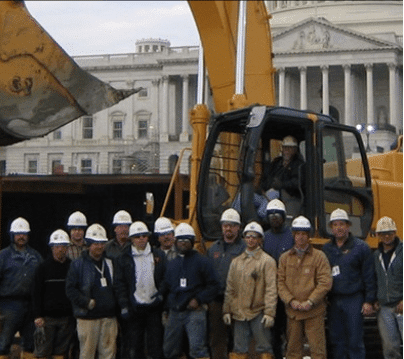 During the years of WWII, J.J. served in the Navy as a "SEABEE," a title derived from the initials CB, standing for Construction Battalion. Their motto, "We build, we fight," was engrained in J.J., and that fighting spirit and passion for service never left him. Jim also proudly served his country as a member of the U.S. Coast Guard with most of his time spent in the Pacific Campaign.
After the war Jim decided to open a plumbing & heating supply business called Heritage Supply. Jim and J.J. had met through a local DC plumbing contractor and Jim began to refer work to J.J. because he saw that his customers were having a hard time finding a qualified contractor to complete their projects. It was during this time period that the two men decided to go into business together.
After receiving his master plumber's license J.J. partnered with Jim and together they founded Joseph J. Magnolia, Inc. Jim was a licensed plumber himself; however, his skills were best served in obtaining new business. Jim's connections and personality allowed the company to earn a good bit of new construction and residential work while J.J. carried the licenses for the company and was a magnificent operations man. Some would say that he was "God Gifted" with his hands. J.J. had the knowledge and talent to ensure that jobs were completed below cost, allowing the company to earn a profit. He would always find ways to perform tasks more efficiently and with lower cost than anyone else.
During the time period surrounding the late 50s and early 60s, J.J. initiated his sons, Joe & John, into the trade by making them work with him on several projects throughout the metro area. He would pay them $.50 cents per tub to cover newly installed bath tubs and keep them from being damaged by the drywall and tile workers during the construction process. He would also make them come to the shop during their grade school years to restock fittings after one of his large construction projects had completed.
Joe & John often worked the Friday and Saturday after Thanksgiving restocking fittings at the shop. These odd jobs soon turned in to summers of working in the family business during their high school years, although they would have preferred to be enjoying fun in the sun with their friends. The hard work paid off in the end, and helped secure the future of the family business, with Joe joining the company full–time in 1965 and John follow that path in 1972.
Sadly, J.J. passed away of a heart attack just one day before his 62nd birthday. There is no doubt, though, that he'd be proud of his sons and the company's achievements. In the decades since the company was founded much has changed, new partners have come and gone, a service division was created, and steps were taken to expand in to heating and pumping services. Still, one thing has remained the same, our family's commitment to exceptional quality work and excellent customer service.
In 2011 Joseph J. Magnolia, Inc. added a pre–fabrication shop to its operation. The pre–fabrication shop works in conjunction with a CAD (Computer Aided Design) Department so that materials can be more efficiently put together in a controlled environment and shipped out to a job site where they are installed. In 2015 Joseph Magnolia, Sr. officially retired from the business. The companies are currently owned by John Magnolia, Chris Magnolia, Dominic Magnolia, & Tony Magnolia.
Today the Magnolia Companies consist of Joseph J. Magnolia, Inc. and Magnolia Plumbing, Inc. and operate out of (3) locations dispatching approximately 200 service and construction vehicles throughout the Washington and Baltimore Metropolitan Region. Joseph J. Magnolia, Inc. is a thriving plumbing and mechanical company performing large scale plumbing, mechanical and site utility installation work all throughout the region. Magnolia Plumbing, Inc. provides plumbing, heating, air conditioning, drain cleaning, pumping, site utility and stormwater management services to residential and commercial clients.