"*" indicates required fields
Drain Cleaning in Washington, DC
The amount of people in a commercial building places a heavy strain on the drain and sewer system that services it. When this drainage system develops issues such as clogs and breaks, it can rapidly expand into a larger problem that affects the entire building. You don't want anything this drastic to happen to your business! Whenever you need to have work done to care for your commercial building's drains or sewer system—repairs, cleaning, maintenance, line replacements, etc.—make sure that you only call on experienced commercial plumbers.
Magnolia Commercial Plumbing, Heating & Cooling offers complete commercial drain and sewer services in Washington, DC and the surrounding areas. This includes cleaning and trenchless line replacements. We're a 4th generation commercial company with the expertise to take on any job, no matter how large. We aren't only here to make a profit: we aim to provide the best services because we care about our name and reputation as a top commercial plumbing contractor.
Video Camera Inspection Services
Part of cleaning sewers and drains is knowing what methods to use and where to use them. Amateurs may simply trust to luck and guesswork to finish a job, but that's never something you want when it comes to your business! Our plumbers make use of video camera inspections to look down inside your drain and sewer lines. This provides us with the data we need to complete the job faster and better. We also use video cameras for preventive exploration to find problems before they worsen.
If our plumbers discover a break or belly (sag) in a pipeline, we will use specialized tools to find the exact location of the problem and how deep the line is located. This helps us give excavation costs. We have a wide range of equipment to assist us in line locating. Our combination of technology, expertise, and experience means that we can perform a job with as much speed and accuracy as possible. This will help keep down costs.
Drain Snaking and Cabling
Drain snaking is one of the common procedures used to clean drain and sewer lines, from small residential drains to immense commercial sewer pipes. Plumbers insert an auger on a long cord down into the pipe and send it along until it comes into contact with the blockage. A motor drills the auger into the clog to break it up and open the pipe. Our plumbers make use of commercial–grade drain augers with high horsepower motors and large cables equipped to clean drain and sewer lines of all diameters.
High–Pressure Sewer Water–Jetting
Another effective method to clean drains and sewer lines is hydro–jetting, also called high–pressure water–jetting. This process involves inserting a hose with an omnidirectional nozzle at the end down into the pipeline. Water kept at high pressure with a motor is then blasted out through the nozzle to provide 360° of scouring power. The water blasts grease and other debris from the pipes, and restores the effectiveness of your sewer or drains. 
What causes these issues, you ask?
Our technicians are out in the field every day and the main causes of drains needing repairs include:
Broken Glass
Grease Build Ups
Roots
Bellying: This occurs when the ground has shifted or settled. We need to diagnose this issue with a video pipe inspection and we need to excavate the clog and replace that section of pipe. It's not a small job, but one we have fixed countless times.
What can you do to prevent these issues?
Well, we're glad you asked. The two most important aspects of maintaining fully functioning pipes that never need an emergency repair are:
Monitoring what goes down the pipes. Broken glass, for example, should never go down any drain.
Regular cleaning maintenance. Prevention is the best way to avoid repairs and regular maintenance ensures that you won't have any surprises!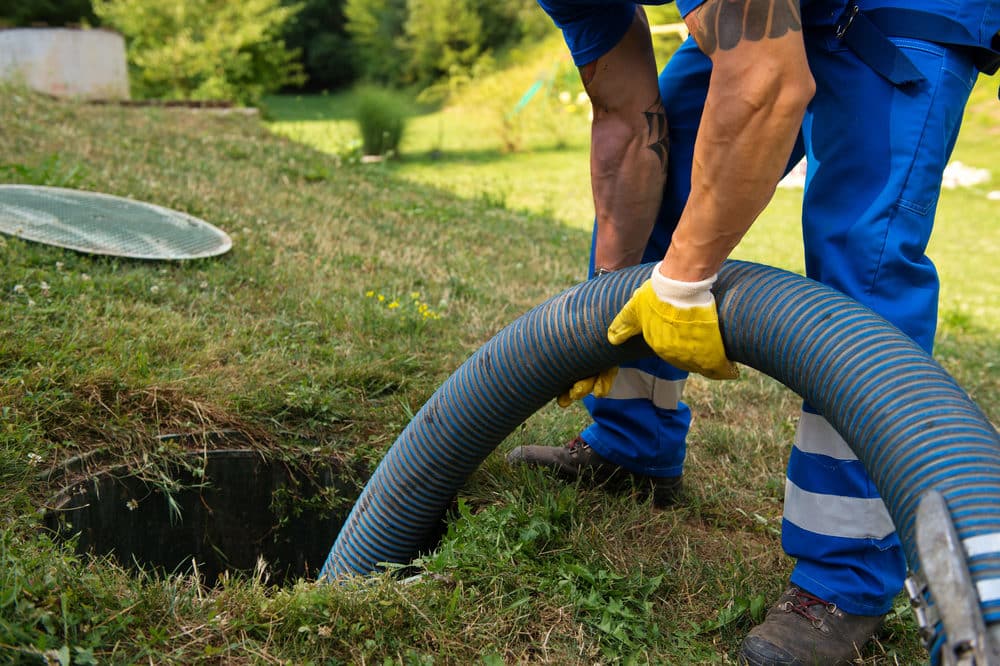 We're not out there working with local businesses simply to make a profit: we care about the job we do, and we want to live up to the name on our trucks and the reputation that comes with it. We're only as good as the last job we did!
As with all of our services, we abide by the latest industry standards as set out by the National Association of Sewer Services Companies (NASSCO). When it comes to sewer cleaning, the following are available:
Pre–cleaning Inspection
Light Sewer Cleaning
Heavy Sewer Cleaning
Root Cut (Roots Medium and Root Balls)
Deposit Cut
Lateral Cuts
Final Survey Television Inspection
Magnolia Plumbing, Heating & Cooling provides Commercial Drain Cleaning services in the DMV area, including Washington DC, Silver Spring, Alexandria, and Arlington. View our service area here.