"*" indicates required fields
Electric Furnaces in Washington, DC by Magnolia Plumbing, Heating & Cooling
Are you considering a new heating system for your household, but don't want to use natural gas or propane? It's understandable, especially for those who don't have easy access to this resource, or who just don't want to bother. Electric heating systems have a reputation for being overly expensive, but that's not entirely the case anymore. Today's electric furnaces offer incredible efficiency ratings, and they use the same air ducts as those that operate by the combustion of natural gas. We not only install new electric furnaces from scratch, but we also replace older models that may no longer function as they ought to.
Moreover, our HVAC technicians offer outstanding electric furnace repair and maintenance services throughout the area, which means that we're more than happy to tackle any problems that may arise with your system, whether it fails to produce sufficient heat or it makes a loud noise. At Magnolia Plumbing, Heating & Cooling, we are your electric furnace experts in the DC Metro area. Let us make sure that you have exactly what you need when it comes to keeping warm this winter.
Call the technicians at Magnolia Plumbing, Heating & Cooling for comprehensive electric furnace services in Washington, DC and the surrounding areas.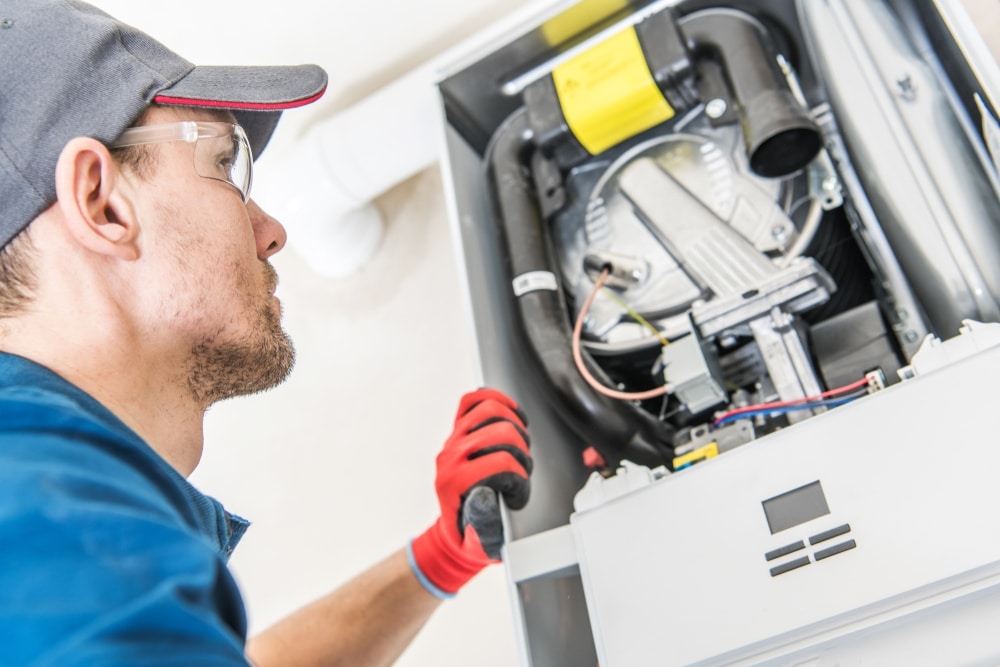 Thinking about an Electric Furnace?
If you're in the market for a new furnace, then you'll have to decide what type of fuel it will run on. You have several options available to you. But it's not hard to make the case for an electric model. One of the most important benefits is that you won't have to worry about the extra utility hook–up, nor will you have to worry about the possibility of leaking carbon monoxide and other exhaust fumes into the home.
Because it's electric, it also operates at 100% efficiency. There is no such thing as "incomplete combustion" when it comes to using electricity to power a heating element. In all other respects, it's much like having the power of gas heat. It uses air ducts to distribute heated air throughout your space and it's a great way to ensure that the entire family is kept warm throughout those especially frosty evenings.
Why Professional Electric Furnace Installation Is Important
If you're considering an electric furnace for your home, then it's imperative that you hire the right company for the job. The reason for this is quite simple: not all electric furnaces are right for your home. In fact, the match between the heating capacity of your furnace and the layout of your home will determine its effectiveness and efficiency for many years to come. You simply cannot expect an overly large or small electric furnace to function as well as an appropriately sized one. We'll make sure that you get what you deserve with our electric furnace installation service.
We Can Maintain and Repair Your Electric Furnace
In addition to installing and replacing entire electric furnaces, we are also proficient in servicing them. When installed properly, your system should last well for years and years, but there will inevitably come a time when you have to call for assistance. You may find that your system has begun to make a terrible banging noise during operation or that its heat distribution seems off in some way. Our electric furnace repair service will ensure that the issue is resolved. We can also make sure that your system is thoroughly cleaned, inspected and tuned–up on a regular basis with our electric furnace maintenance service. Call Magnolia Plumbing, Heating & Cooling now to learn more about what we can do for you.