Furnace Service in Washington, DC
"*" indicates required fields
Electric and Gas Furnace Services
Is your electric furnace not heating your home for some inexplicable reason? Do you need emergency repair services for a leak that's coming out of your unit? Curious about upgrading to a high-efficiency gas furnace? If you said "yes" to any of these, it's time to contact Magnolia! Our skilled professionals can perform any necessary furnace services to ensure your system runs efficiently, reliably, and safely.
Furnace Experts You Can Depend On
When you call on our professionals to ensure you and your family's comfort, you can expect the following services:
Furnace cleaning
Electric and gas furnace installation
Furnace repair
Ductwork maintenance
Contact our heating technicians at the first sign of trouble with your furnace, or schedule an appointment with our team to install a new system that will warm your home for years to come.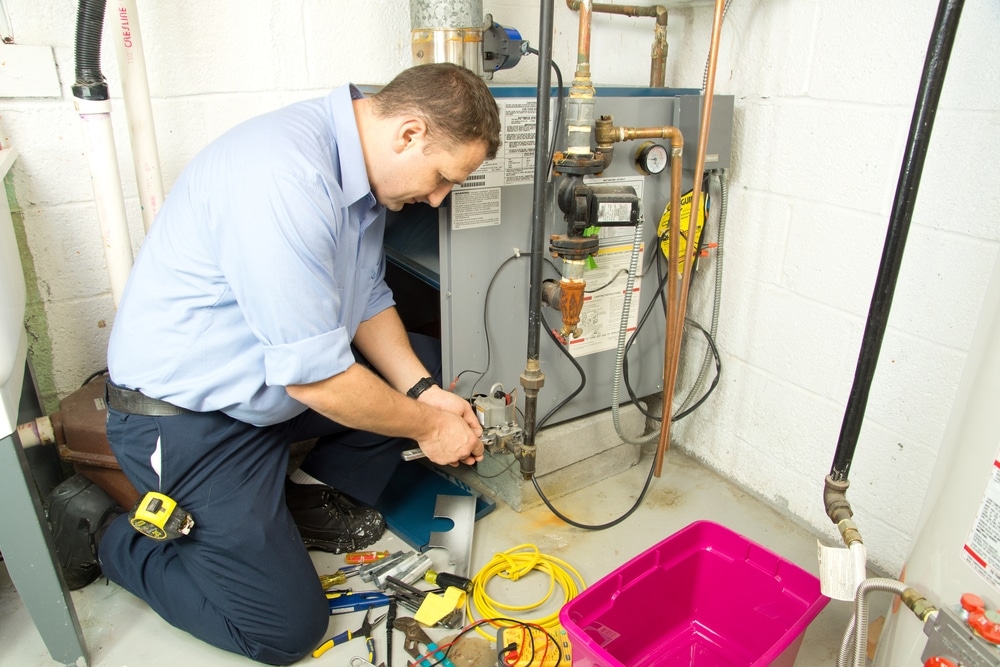 The furnace is one of the most common ways homeowners choose to heat their homes throughout the winter season — and for a good reason! With multiple fuel options to choose from, as well as prompt heating via the forced-air method of heat distribution, furnaces are capable of swift heating to suit the needs of any residence.
Our team is proud to install and service both gas and electric furnaces, two systems that generate heat differently. Gas furnaces rely on combustion, while electric furnaces on electric resistance heating. That said, they do have operational overlap. The systems pull air in through return vents and ductwork, heat it, and redistribute it via the supply ductwork systems. Fans are also used to facilitate the entire process. The condition of your ducts, fans, and all other components in this system will have a significant impact on the quality of your heating experience.
Electric and Gas Furnace Installation
Furnaces come in various sizes, but that doesn't mean bigger is always better. You must have an appropriately-sized furnace installed in your home to heat your living spaces effectively and efficiently. In addition to your heating unit, your ductwork is a sophisticated component that ensures energy efficiency and indoor air quality. All of these considerations, as well as any questions you may have regarding electric or gas furnace installation, can be addressed by our heating experts.
We are well-versed in with all makes and models of both electric and high-efficiency gas furnaces. They can consult with you on the perfect system for your home, whether you're looking for a brand new installation, an upgrade, or replacement for an existing system that just doesn't perform like it used to.
Furnace Cleaning and Maintenance
Just like your vehicle or any other home appliance, routine maintenance is paramount in getting the most out of your furnace. In essence, it's the best way in which you can protect the condition of your furnace and its overall operation. So, don't feel like you can't call us until something goes haywire! We'll consult you on a plan to keep up with furnace cleaning and maintenance to maintain your indoor temperatures just how you like them and to help you avoid costly breakdowns that could have been otherwise avoided.
You may run into a problem at some point with your furnace. Maybe your pilot light continually goes out, you hear alarming sounds emanating from your system, or it will blow air that is just not enough. Whatever the issue may be, you must schedule professional furnace repair services immediately. Failing to do so doesn't just put your comfort on hold; it can spike your utility bills and put your safety at risk, as well.
Sometimes something goes wrong and causes a relatively minor inconvenience a trusted professional can tend to. Other times, it's much more serious. When time is of the essence, call on Magnolia for emergency furnace repairs; that's 24-hour availability you can depend on.
Contact Us for Furnace Services in Washington, D.C.
Whether your electric furnace is not heating properly or you're curious about upgrading your heating system in the Washington, D.C. area, you need quality furnace services from Magnolia! Since our professionals care about your family's comfort, we offer comprehensive heating services including boiler services, ductless heating system services, and heat pump services.