"*" indicates required fields
Gas Lines Service in Washington, DC
Electrical appliances are not always ideal when there are gas-operated alternatives, but making the switch to natural gas can be tricky. Some homeowners have natural gas service available to their homes, but don't have the piping in place to connect a new appliance. If you work on the gas line on your own, you may risk a leak. When you need this type of work done — like moving a gas line — you'll need someone with the proper experience and certifications to come in and take care of the job for you.
When you're looking for dependable gas line plumbers, turn to the best — the ones at Magnolia! We're proud to offer the following:
Gas piping inspections

Gas line installation services

Gas line repair

services

Gas line replacement services

Find out why numerous homeowners depend on us to work on their gas piping by calling our skilled team of gas line plumbers today!
There are two fundamental reasons homeowners tend to choose natural gas appliances over electric alternatives: performance and efficiency. Two examples of this are electric ranges and furnaces. Electric furnaces may do the job, but they cost far more to run each year. Electric ranges do not heat pots and pans as evenly as gas models do. But if you have electrical appliances already in place, it may seem too challenging to install a natural gas model now.
If so, call our experts — we will take care of all of the hardest parts for you! All you have to do is pick out a new appliance, and we can help set you up. The gas fitters on our team are fully licensed to perform work on gas lines in the Washington, DC, area.
If you suspect a gas leak in your home, do not stay in the area — vacate the house as soon as possible before calling for repairs. Attempting to repair a gas line on your own could be dangerous, and a gas leak is no small matter. Protect you and your family's health by calling an expert for any repairs you may need. The professionals on our team are skilled at locating issues and making repairs as quickly as we can without compromising your safety.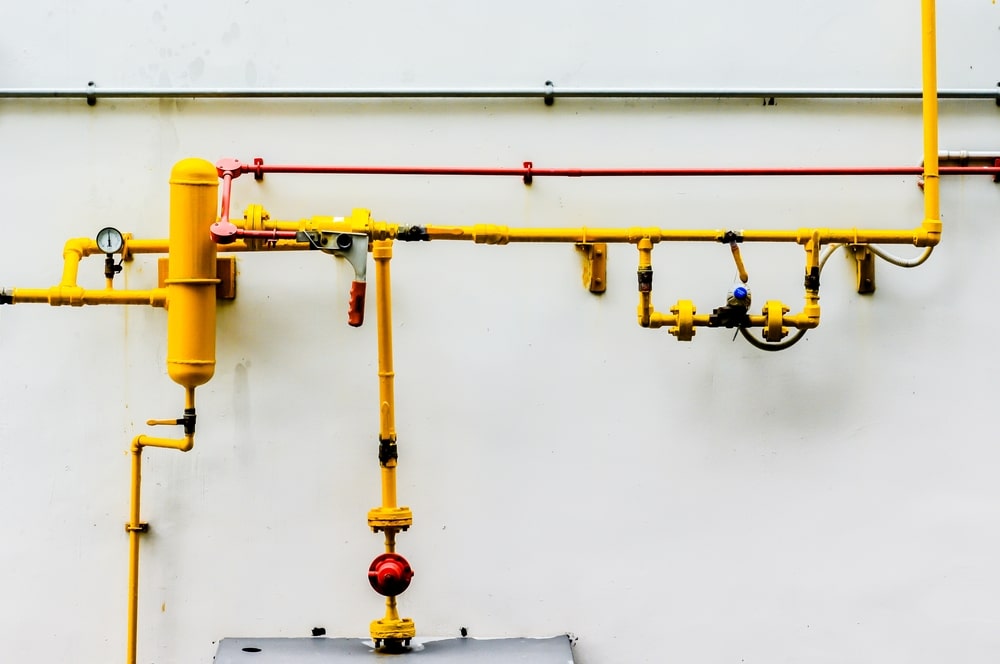 Do You Need a Plumber for a Gas Leak?
Gas leaks not only wreak havoc on your energy bills, but they are also harmful to your health. Significant leaks are easily identified because of their smell, but smaller holes often go unnoticed for long periods. 
Fortunately, our gas line plumbers can utilize leak detectors to find any gas leaks you may have in your home. Upon detection, we'll fix the gas leak and take measures to prevent any future leaks from that source.
Gas Line Installation Service in Washington, DC
We cannot stress this enough: make sure you have qualified plumbers on hand for any gas line installation, repair, or replacement services, or anytime you need work done to install a new appliance. Whether it's fixing a leak, installing a pipe, or moving a gas line, our certified gas fitters can do it all! Since we care about you and your family's comfort, we offer 24-hour emergency plumbing, boiler service, and furnace service as well.
For more information about all of our services, contact Magnolia today!
We called Magnolia to help us with an emergency situation in our home.
Mario was incredibly professional and clean while working. He was kind and made sure we fully understood what was happening each step of the way. I would absolutely use this company again for future needs and highly recommend Mario!
Magnolia was great. They were extremely professional and honest.
Came in and had the job done quickly – moved all my appliances for me, wore booties, and even put down drop cloths. I couldn't have asked for anything more. I highly recommend them to anyone looking for an exceptional plumbing company. Thank you Magnolia!
Magnolia plumbing was efficient and cost saving with replacing my water heater.
They made sure I checked the warranty of my tank so I did not unnecessarily purchase a new tank, and mine was still under warranty. I was very pleased and thankful for the fantastic work.
I needed to have several plumbing repairs handled
at my place of residence. So I contacted Magnolia Plumbing. They have always been professional and knowledgeable. Last week I have Duane Cunningham arrive and he was very polite and professional and very efficient. He explained all of what would be needed to perform the repairs and he performed each task timely and effectively. Magnolia Plumbing Heating and Cooling will always be my 1st choice.
Magnolia is full service,
including air conditioning, heating, plumbing and subcontracting for flues and chimney lining. I had a very old gas water heater and they replaced it within 2 days from doing an audit and even when I requested a switch to electric from gas at the last minute it was no problem. Pasquale is a professional and took care of every aspect, replaced leaking pipes, brought my gas boiler flue up to code and installed a high grade water heater; their pricing is very competitive.