It's a homeowner's worst nightmare to come home to a broken air conditioner in the middle of a sweltering Washington, DC summer! Now, instead of relaxing after a long day of work, you have even more stress piling up on your shoulders. If you find yourself in this situation, just take a deep breath. The HVAC experts at Magnolia are here to guide you through the three most common air conditioning problems, some of which you might be able to repair on your own.
If not, you already know we'll always have your back with timely, high-quality, and affordable home AC repairs. Take a look!
1. AC is Blowing Hot Air
This is a pretty common service request for our AC specialists during the summer months. The good news is that it may be a quick fix. Try these steps first:
Check your thermostat. It probably sounds silly, but it happens more than you would think. Make sure nobody accidentally changed the setting from cool to heat.
Replace your air filter. The reason most HVAC technicians stress the importance of regular maintenance is that this simple step can avoid a catastrophe. If your air filter isn't replaced regularly, it will get clogged with dust and debris. This traps cold air in the AC unit instead of circulating it throughout the house.
Inspect your outdoor unit. Is your outdoor unit running? This part of your air conditioner is responsible for "creating" cold air, so if it's not functioning correctly, the fans will just circulate the indoor air instead. Inspect your circuit breaker to make sure everything is working properly.
If none of these tips help you restore your cooling system, then you may be dealing with something more serious, like low refrigerant levels or a busted compressor, which aren't really DIY situations. They require professional help, so contact Magnolia for AC repairs instead!
2. AC is Leaking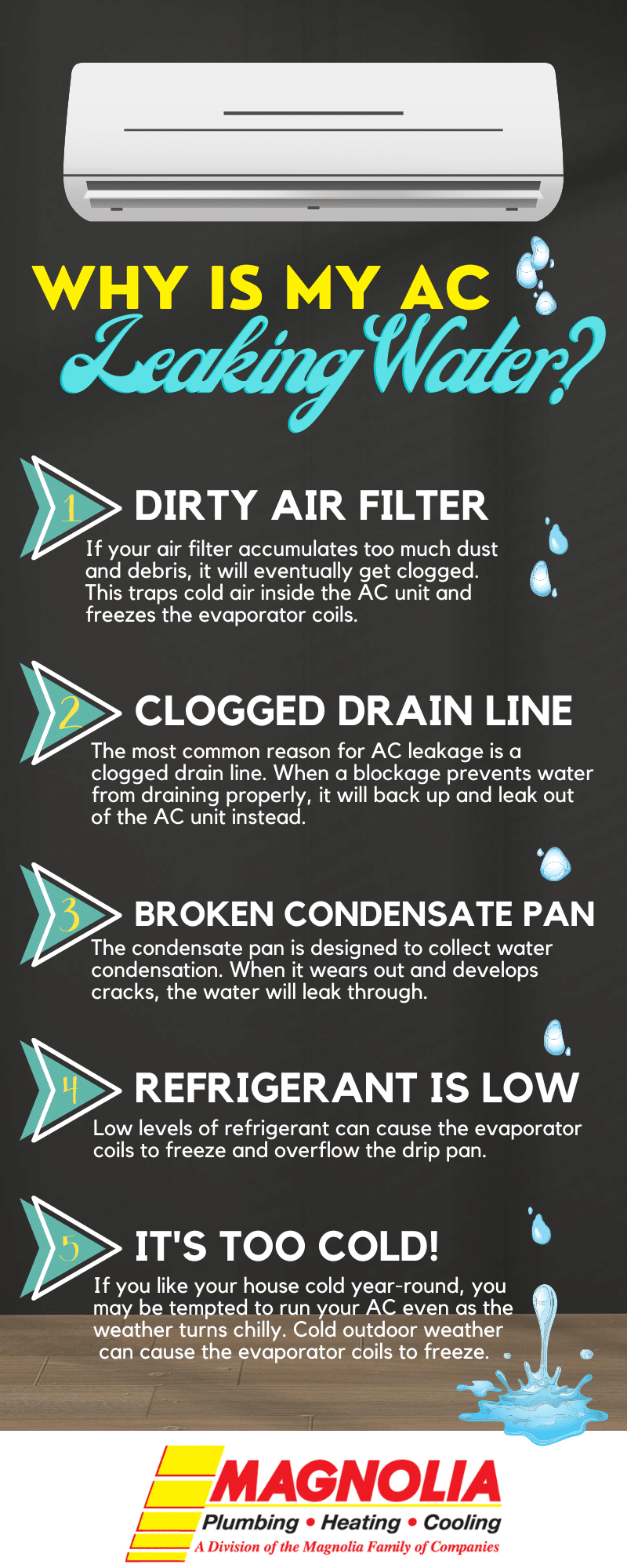 3. AC is Not Turning On
The most common reason your air conditioner is not turning on is due to a lack of power or electricity. Check the circuit breaker panel first and reset the tripped breakers if necessary.
If that doesn't do the trick, head over to your thermostat and ensure that it's functioning properly. Whether your thermostat needs new batteries or it's completely broken, you'll need to repair it to restore your cooling system.
As always, our emergency HVAC repair technicians are available throughout the Washington, DC area and the surrounding regions should you need the help of a trained professional. We can take care of your air conditioner issues quickly and at a bargain price, so you don't have to bake in a hot house.