"*" indicates required fields
Drain Cleaning in Washington, DC by Magnolia Plumbing, Heating & Cooling
Modern drain and sewer systems provide us with conveniences that were once unheard of. The ability to wash our hands, enjoy a hot shower, do the laundry, use the toilet, and clean dirty dishes with a push of a button — these are basic luxuries that modern homeowners enjoy. However, none of it would be possible without a properly functioning drainage system. 
The drain and sewer system installed in each of our homes is responsible for the hygienic removal of waste and wastewater. While you seldom think about your drains when everything is functioning smoothly, they become quite hard to ignore when they develop problems. The most common issue to be aware of is a clogged drain; you probably experienced this very same complication not too long ago. Thankfully, it's nothing that a drain cleaning service can't fix. Magnolia Plumbing, Heating & Cooling offers convenient and affordable drain cleaning services by certified plumbers who are trained and equipped to deal with even the most stubborn of drains.
If you're the owner of a residential or commercial property in Washington, DC or any nearby regions, don't hesitate to contact Magnolia Plumbing, Heating & Cooling for all your plumbing needs. Our specialties don't stop at drain cleaning services — we also offer septic tank services, drain cleanings, emergency plumbing repairs, water heater services, and more. Give us a call today!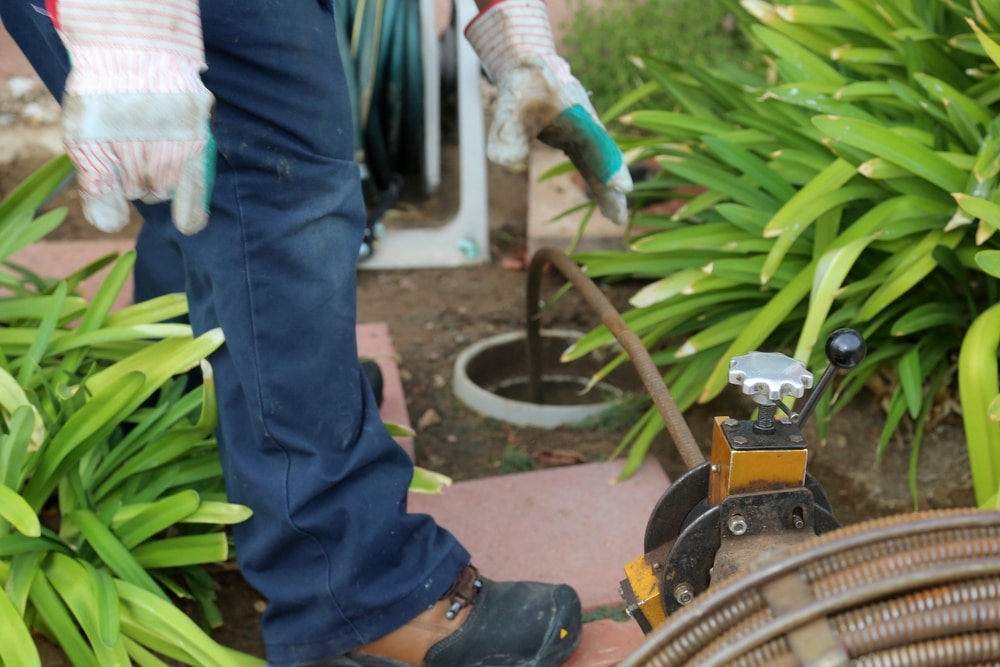 When it comes to plumbing problems, a clogged drain probably resides somewhere at the bottom of your list. Most homeowners don't consider clogged drains pressing emergencies, but rather a nuisance that they learn to live with. However, letting a small clog sit unresolved will cause debris to build up until a full blockage occurs. When your drains start backing up, you'll learn just how serious a clogged drain can be. 
That is why you should contact us at the first sign of such trouble. To help determine when your drains are ready for a cleaning service, we've compiled a list of warning signs you should be on the lookout for. 
Water drains slowly in your sink, shower, or bathtub

Your drains make gurgling noises after use

There is water backup in your sink, shower or bathtub

Your drains smell like sewage

There are water puddles in your front yard or lawn
DIY or Drain Cleaning Plumber?​
Why should you outsource your drain cleaning services if you're ready and willing to deal with a clogged drain on your own? You simply don't have the necessary tools or expertise that a professional service expert can offer. Certified plumbers don't perform a drain cleaning with simply a plunger and a bottle of chemical cleaner. These are temporary fixes that only result in a partial clearing of the clog, not to mention they put you at risk of needing a more serious drain repair service from causing damage to your system. The plumbers at Magnolia Plumbing, Heating & Cooling are trained to use state-of-the-art drain cleaning tools, such as hydro jetting equipment, which can make quick work out of your service and leave you with squeaky clean drains.
Schedule Professional Drain Cleaning Service with Us
Our plumbers not only have the right tools to effectively clean your drains in a manner that's safe for your plumbing system, but they have the skill required to use them, as well. With all that we have at our disposal, including pipeline inspection equipment, hydro jetting systems, and more, scheduling your drain cleaning service with Magnolia Plumbing, Heating & Cooling should be an easy choice. Speak with a drain cleaning plumber from Magnolia Plumbing, Heating & Cooling today, and remember that clogged drains are never simply a minor inconvenience. 
We are happy to handle both residential and commercial drain cleanings throughout the area, as well as any other plumbing services you may require, whether it's a repiping project or a tankless water heater service. You shouldn't expect less than a job well done from us! Contact us to schedule an appointment or call our emergency plumbing hotline.
We called Magnolia to help us with an emergency situation in our home.
Mario was incredibly professional and clean while working. He was kind and made sure we fully understood what was happening each step of the way. I would absolutely use this company again for future needs and highly recommend Mario!
Magnolia was great. They were extremely professional and honest.
Came in and had the job done quickly – moved all my appliances for me, wore booties, and even put down drop cloths. I couldn't have asked for anything more. I highly recommend them to anyone looking for an exceptional plumbing company. Thank you Magnolia!
Magnolia plumbing was efficient and cost saving with replacing my water heater.
They made sure I checked the warranty of my tank so I did not unnecessarily purchase a new tank, and mine was still under warranty. I was very pleased and thankful for the fantastic work.
I needed to have several plumbing repairs handled
at my place of residence. So I contacted Magnolia Plumbing. They have always been professional and knowledgeable. Last week I have Duane Cunningham arrive and he was very polite and professional and very efficient. He explained all of what would be needed to perform the repairs and he performed each task timely and effectively. Magnolia Plumbing Heating and Cooling will always be my 1st choice.
Magnolia is full service,
including air conditioning, heating, plumbing and subcontracting for flues and chimney lining. I had a very old gas water heater and they replaced it within 2 days from doing an audit and even when I requested a switch to electric from gas at the last minute it was no problem. Pasquale is a professional and took care of every aspect, replaced leaking pipes, brought my gas boiler flue up to code and installed a high grade water heater; their pricing is very competitive.