"*" indicates required fields
Washington, DC Hydro Jetting Services by Magnolia Plumbing, Heating & Cooling
Drain clogs are incredibly common problems, but that doesn't make them any less frustrating when they occur. A clogged drain disables an entire water appliance for an extended period of time until it's fixed. Even after the clog is removed, it may occur again in short order if the waste on the inner walls of the pipe wasn't entirely removed. It is important that the drains be cleaned out completely on a regular basis in order to prevent things like this from happening. That's why Magnolia Plumbing, Heating & Cooling offers hydro jetting throughout. Call us today to set up an appointment.
Magnolia Plumbing, Heating & Cooling provides hydro jetting services in Washington, DC and the surrounding areas.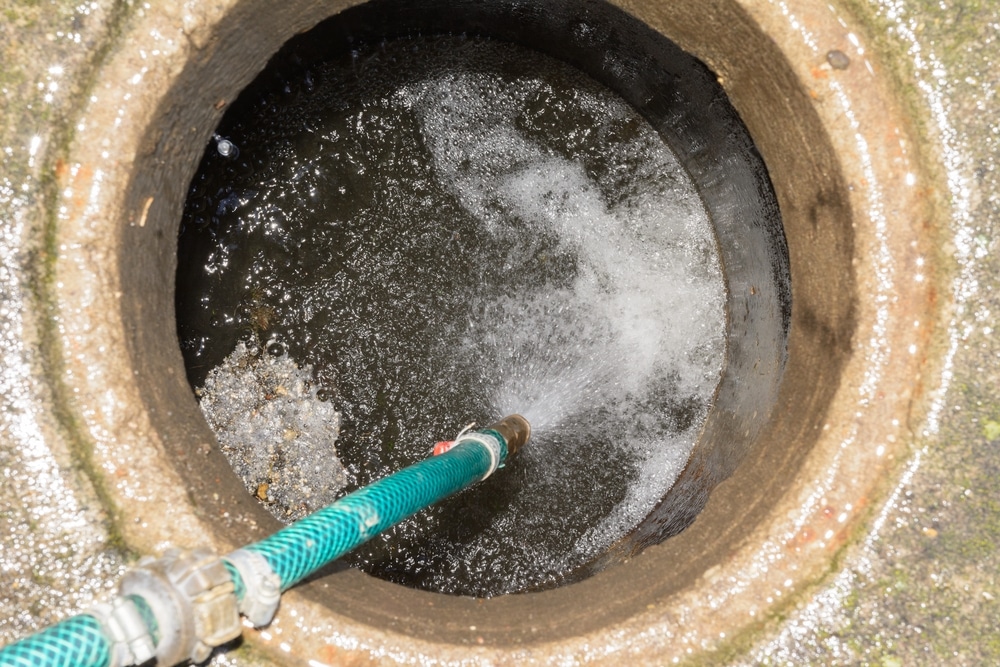 Hydro jetting, also called water jetting, involves inserting a long water hose into the drain. A sprayer head is attached to the end of the hose, with a 360 degree field of effect. The hose sprays out a very high pressure stream of water that covers the entire inside of the pipe. In this way, the hydro jet can remove any and all waste that may be stuck to the pipe walls.
Why Is Water Jetting Preferable to Other Drain Cleaning Methods?
Prior to the use of hydro jetting, the most common method for cleaning out drains was a device called a drain snake. Drain snakes were long cables with auger bits on the ends of them, which were inserted into the drain until they met a clog. At that point, the auger on the end of the snake would be used to drill through the clog and open up the pipe. These devices are still commonly used today, and perform just fine. However, there are still a couple of problems with them.
First, the drain snake isn't really a cleaning tool. It is only used when a clog has developed. This means that it doesn't really have any way to clean waste off the walls of the pipe; it can only open a path through the center. This leads us to the second problem, which is that the snake does not actually get rid of the entire clog. It can only clear a hole as large as the auger at the end of the coil. This means that in larger pipes (like those in commercial buildings) most of the clog remains in place and can reform more quickly. Hydro jetting is much more thorough, and doesn't have either of the problems with drain cleaning that snakes do.
If You Need Hydro Jetting Services in Your Building, call Magnolia Plumbing, Heating & Cooling
Hydro jetting is a great way to make sure that you drains are in the best possible shape. They not only completely clean clogs out of your drains, but make sure that it will be harder for them to form next time. If you have never had the pipes in your building hydro jetted, call Magnolia Plumbing, Heating & Cooling to schedule an appointment with one of our expert plumbers.
We called Magnolia to help us with an emergency situation in our home.
Mario was incredibly professional and clean while working. He was kind and made sure we fully understood what was happening each step of the way. I would absolutely use this company again for future needs and highly recommend Mario!
Magnolia was great. They were extremely professional and honest.
Came in and had the job done quickly – moved all my appliances for me, wore booties, and even put down drop cloths. I couldn't have asked for anything more. I highly recommend them to anyone looking for an exceptional plumbing company. Thank you Magnolia!
Magnolia plumbing was efficient and cost saving with replacing my water heater.
They made sure I checked the warranty of my tank so I did not unnecessarily purchase a new tank, and mine was still under warranty. I was very pleased and thankful for the fantastic work.
I needed to have several plumbing repairs handled
at my place of residence. So I contacted Magnolia Plumbing. They have always been professional and knowledgeable. Last week I have Duane Cunningham arrive and he was very polite and professional and very efficient. He explained all of what would be needed to perform the repairs and he performed each task timely and effectively. Magnolia Plumbing Heating and Cooling will always be my 1st choice.
Magnolia is full service,
including air conditioning, heating, plumbing and subcontracting for flues and chimney lining. I had a very old gas water heater and they replaced it within 2 days from doing an audit and even when I requested a switch to electric from gas at the last minute it was no problem. Pasquale is a professional and took care of every aspect, replaced leaking pipes, brought my gas boiler flue up to code and installed a high grade water heater; their pricing is very competitive.