Heat Recovery Ventilators (HRV)
"*" indicates required fields
Heat Recovery Ventilators in Washington, DC by Magnolia Plumbing, Heating & Cooling
One of the conundrums of modern comfort in a home is that allowing fresh air inside results in too much pressure placed on either the heater or the air conditioner. If you want to keep a house energy efficient during a hot summer day or freezing winter night, you must have it sealed up tight. But this leads to stale indoor air that you can't get rid of unless you open up windows and doors to the outside. You can have an energy-efficient comfort system or pleasant, healthy indoor air, but you can't have both. Or can you?
Yes, you can. There are a number of solutions to this dilemma, and one of the most effective is the installation of a device called a heat recovery ventilator, or HRV. A professional can integrate an HRV into your home's HVAC system. You will see the benefits almost immediately. You can call on Magnolia Plumbing, Heating & Cooling if you want a heat recovery ventilator for your home. We also provide repair and maintenance services to keep HRVs running.
The indoor air quality experts at Magnolia Plumbing, Heating & Cooling offer installation and other services for heat recovery ventilators in Washington, DC and the surrounding areas.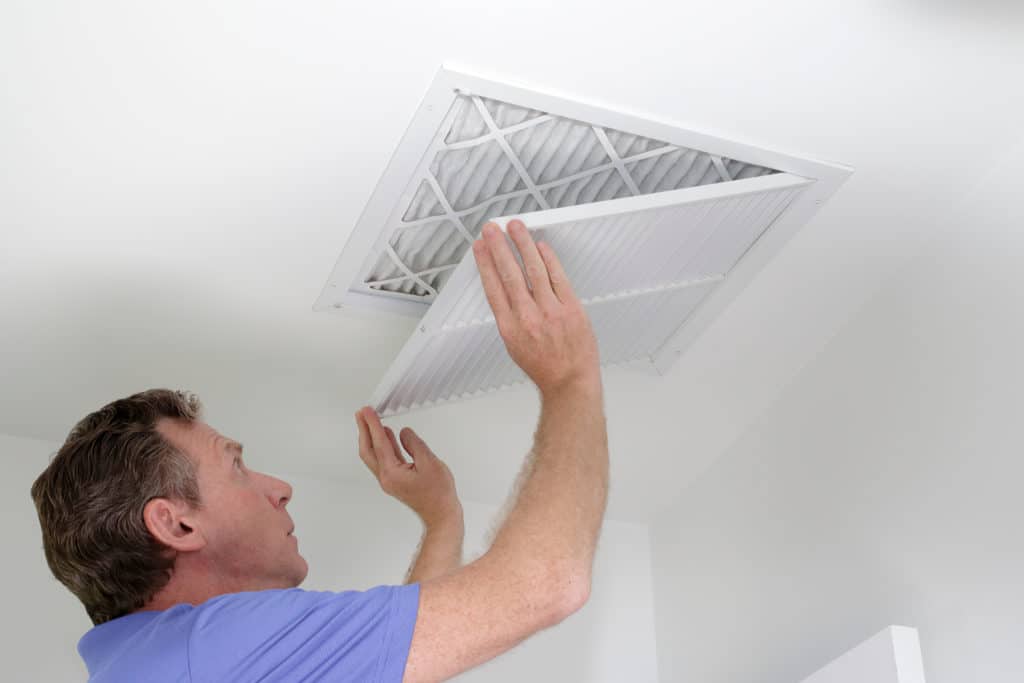 How Does a Heat Recovery Ventilator Work?
Heat recovery ventilators are similar to another device, an energy recovery ventilator (ERV), in that both use a process called counter–flow heat exchange to pre–heat or pre–cool fresh air brought into a home. (The main differences between the two are that an HRV doesn't affect humidity and is more suited to cold temperatures.)
Here's an example of how an HRV works during a cold winter day. The HRV draws a current of fresh—but chilly—outdoor air through a vent. It also pulls in a current of stale—but warmer—indoor air. The two currents run through each other inside the heat recovery ventilator. The warm indoor air loses heat to the cold outdoor air, raising the temperature of the fresh air. The stale air is exhausted to the outside, and the fresh air, which is now much warmer, moves on to the heater. The heater needs to expend less energy to raise the temperature of this air. During a hot summer day, the process simply flips around, and warm outside air loses its heat to the stale indoor air and cools down.
The main advantage of a heat recovery ventilator is energy savings. If properly installed, the device recovers 80% of the heat that would otherwise be lost if a home were opened up to the outside. This will provide a tremendous difference in your energy bills to both heat and cool your home each year. The other benefit is that you will enjoy much fresher air inside the house. Comfort, after all, is about more than just the temperature indoors: clean, healthy air is a very important part of it.
Call Us for Heat Recovery Ventilator Service
You cannot select and install an HRV on your own. This is a job for professionals, and Magnolia Plumbing, Heating & Cooling has a team you can trust for this service. We also offer repair services when necessary and routine maintenance so that your heat recovery ventilator provides you with comfort and energy savings for many years.
We called Magnolia to help us with an emergency situation in our home.
Mario was incredibly professional and clean while working. He was kind and made sure we fully understood what was happening each step of the way. I would absolutely use this company again for future needs and highly recommend Mario!
Magnolia was great. They were extremely professional and honest.
Came in and had the job done quickly – moved all my appliances for me, wore booties, and even put down drop cloths. I couldn't have asked for anything more. I highly recommend them to anyone looking for an exceptional plumbing company. Thank you Magnolia!
Magnolia plumbing was efficient and cost saving with replacing my water heater.
They made sure I checked the warranty of my tank so I did not unnecessarily purchase a new tank, and mine was still under warranty. I was very pleased and thankful for the fantastic work.
I needed to have several plumbing repairs handled
at my place of residence. So I contacted Magnolia Plumbing. They have always been professional and knowledgeable. Last week I have Duane Cunningham arrive and he was very polite and professional and very efficient. He explained all of what would be needed to perform the repairs and he performed each task timely and effectively. Magnolia Plumbing Heating and Cooling will always be my 1st choice.
Magnolia is full service,
including air conditioning, heating, plumbing and subcontracting for flues and chimney lining. I had a very old gas water heater and they replaced it within 2 days from doing an audit and even when I requested a switch to electric from gas at the last minute it was no problem. Pasquale is a professional and took care of every aspect, replaced leaking pipes, brought my gas boiler flue up to code and installed a high grade water heater; their pricing is very competitive.